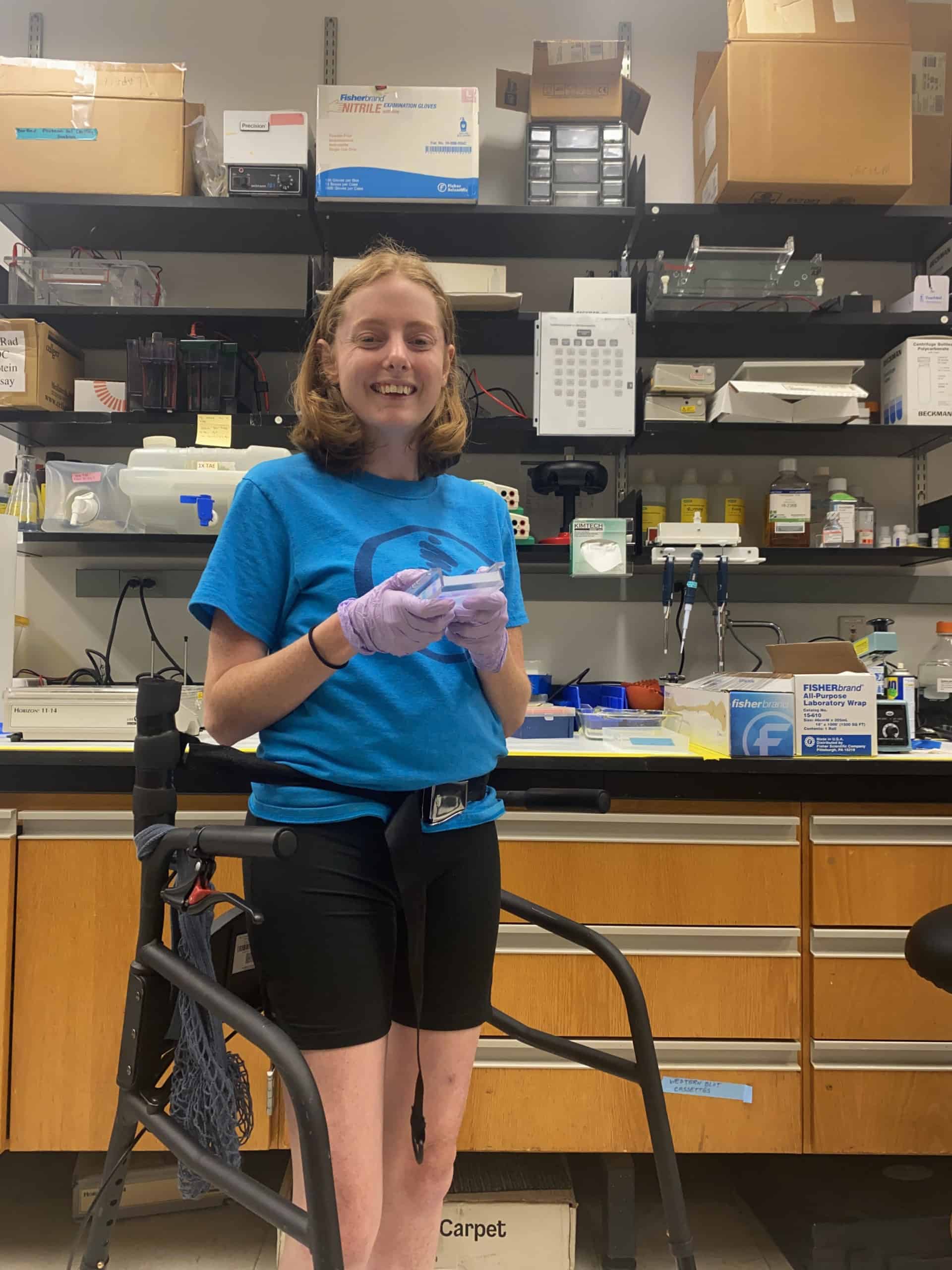 Here's what's happening in my body: my cells are unable to make energy because they're missing an important protein. The cells are dying. Over time, I'm steadily losing the ability to walk, speak and make coordinated movements.
This is Friedreich's ataxia (FA), a rare disease for which there are no FDA-approved treatments today. And it's the reason I'm pursuing my Ph.D. in genetics at the University of Florida.
Struggling in the Lab
When I started my program, I wanted to learn everything I could that I could eventually use to work on developing treatments for my disease. I'm happy to say an FA gene therapy program was already underway. It was just too far along for me to jump in.
But I'm still learning a lot about gene therapy that I can use in the future. My project focuses on gene replacement treatment. I'm working on replacing a gene that causes autophagy dysfunction, which is the inability of cells to get rid of waste properly. This technology may one day help prevent many diseases.
For the first two years of my program, I depended a lot on lab techs to help me with tasks that require fine hand coordination. That's not the best. As a Ph.D. student, it really needs to be my project, my work. And it delayed things when I had to rely constantly on other people to get things done.
I was able to use a walker, but I had to hold onto it and couldn't use both my hands. I was always concerned about my arms or legs giving out. I had to be sitting if I was going to do anything at the workbench so I didn't have to worry about falling. There's a lot of hurrying between locations, too. It was exhausting.
Hands-Free and Fall-Safe
When I first saw an ad for the LifeGlider, I thought it looked really cool, but I didn't know anyone with my disease that used it. I wasn't sure if it would be helpful for me. For a year, I just looked at it. I never wanted to try it.
But then I finally showed it to my physical therapist and told her it was hands-free and fall-safe, and she was like, "Wow, this could really help you!" She got me thinking about how not having to keep my hands on my walker would be better in the lab.
I suggested to my advisor that we get one for the lab. He ordered two.
The first time I used it was a little bit of an adjustment. I was used to using a traditional walker full time, where your balance is shifted forward, your weight on your arms. With the LifeGlider, you go back to walking how people are supposed to walk – people who don't have a mobility impairment – with your weight centered, not having to rely on your hands so much.
My physical therapist was amazed. "Your walking pattern looks normal," she said. "You look so steady!"
Since then, I've been able to do pretty much anything other people can do. I can stand at the bench for as long as I want to, carry things between rooms and walk longer distances.
Before, I would get uncoordinated and sometimes fall after 10 minutes of walking. Over the past year, without worrying about falling, I've been able to push myself to walk for longer periods of time. It's definitely improved my leg function.
I used to use my wheelchair for longer distances. Sometimes I would be in it when friends or colleagues would strike up a conversation while standing. That was frustrating. When you're not at eye level, you just don't feel fully present, like you're not even in the same room. But now, I can stand and feel like I'm a part of the conversation again. I can even give someone a hug!
I won't lose the ability to walk
If you have a progressive disease like mine, one of the most important reasons to consider getting a LifeGlider is that it can help you stay on your feet.
Last year, I fell and broke my arm. I couldn't use my standard walker. I thought my only option for mobility during my two months of recovery was going to be my wheelchair. That would have been awful, because FA gets worse when you don't stay physically active. I was worried I would lose the ability to walk.

Thanks to the LifeGlider, I was able to stay on my feet through my recovery. Without it, I don't know what I would have done.
I used to worry about having to transition permanently from a walker to a wheelchair full-time one day. But now I know I can rely on the LifeGlider and may not ever entirely lose the ability to walk. That's what makes the LifeGlider truly life-changing for me.
Hope for People with FA
I'm now three years into my program, with another two or three to go. I'm not quite sure what I want to do after that, except that I want my career to revolve around two things: science and my volunteer patient advocacy work.
The organization I work for is Friedreich's Ataxia Research Alliance (FARA). Its main mission is to fund a cure and treatments for FA. I work to spread awareness of this disease, petition policymakers to advocate for the FA community, and interact with others with FA.
I've made friends all over the world with FA. When you're diagnosed with a rare disease, something you've never heard of, it can be scary. Knowing others with the same diagnosis makes it a little easier. I try to help any way I can.
One way is by telling them about the LifeGlider. Since my advisor has had those two LifeGliders, a bunch of people with FA have tried them. Several have bought one of their own and are walking with it today.
You really cannot fall in the LifeGlider. Even if you were in a wheelchair and don't think you can tell your legs to walk, it's worth a try. It's been life-changing for me. I hope it will be for you, too.
###