What if you found out everything you thought was true about preventing falls was wrong?
There are a lot of misconceptions about falls. You (or your loved one) may be more at risk of a fall and serious injury than you think, even if you're using a mobility aid. You also may have altered your behavior in ways that seem safer but are actually more dangerous.
In the spirit of National Falls Prevention Awareness Week, let's challenge some assumptions about how best to stay safe. Here are 5 common myths about fall risk and prevention, and the facts to debunk them.
Myth #1: If you're only getting a little unsteady on your feet, you don't need to worry too much about falls.
As much as everyone wants this one to be true, the reality is that falls become increasingly likely as we age. Likewise, fall risk increases as neurological conditions such as MS progress.
When you're starting to "get a little unsteady on your feet," that's when you need to start thinking seriously about fall prevention.
Myth #2: Falling is a normal part of aging or living with a neurological disorder. It's best to stay off your feet as much as possible.
Just because it's common doesn't mean falling is normal. In most cases, falls are preventable.
One way to prevent falls is by making your home environment safer. Keeping floors clear, installing automatic sensor lights so you can watch your step at night, and having plenty of strong supports to hold onto in the bathroom are good ways to mitigate fall risk.
But that's just a start.
You can actually prevent more falls by walking regularly than by avoiding being on your feet. This is because the exercise of your core muscles – the abdominal, back, hip and pelvic floor muscles – promotes balance and stability.
By contrast, avoiding walking results in the deconditioning of those muscles, which promotes a lack of stability and imbalance when you do attempt to walk.
It seems like the opposite of common sense, but it's true: the more you walk (perhaps with the assistance of a caregiver or the right mobility aid), the safer walking will be, and the less likely you will be to fall.
Myth #3: To prevent falls while walking, you should hold onto something in front of you, like a traditional walker or cane.
This is only partly true.
Yes, if you're at risk of falling, it's wise to use a mobility aid to provide additional support. However, while most traditional walkers, rollators, and canes are better than nothing, to say they "prevent falls" is very misleading. If anything, their design actually promotes falls.
How could that be? Well, consider where your center of gravity is while holding onto something in front of you for support. It's between you and that object. If your hands were to slip, your forward-leaning posture would produce a fall.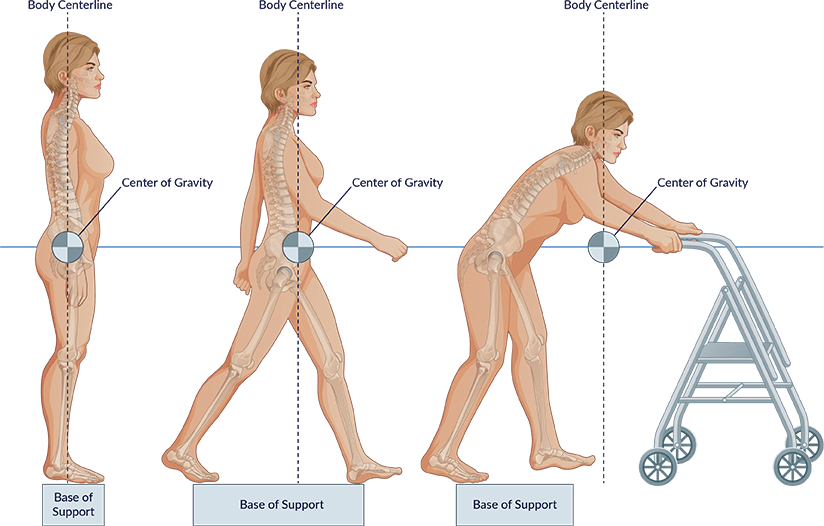 So what was really preventing your fall? It's your grip, your arm strength, and your attentiveness. The placement of the walker is actually encouraging the fall.
What naturally keeps human beings from falling over when we stand or walk is keeping our mass centralized, balanced with support from our core muscles below. The key to preventing falls is practicing walking with an upright posture that relies more on those big core muscles, not your arms, to keep you balanced.
This is why mobility aids like the LifeGlider are designed to support you from below, not in front. It encourages the posture that promotes a natural sense of balance. It also truly prevents falls, because it catches you when you slip. In other words, it holds onto you.
Myth #4: Once you start using a mobility aid, it's inevitable that you're going to need a wheelchair eventually to prevent falls.
While some progressive disabilities do result in wheelchair reliance, this is definitely not inevitable for everyone who wants to remain mobile. Regular exercise reduces the likelihood that you will become unable to walk.
In one 2014 study, 1,600 men and women between the ages of 70 and 89 who did not exercise regularly and were "relatively frail" were split into two groups: one committed to daily walking, strength and balance exercises, the other to take education workshops on healthy aging with no exercise requirement.
The results were striking:
Regular exercise – done safely, using a mobility aid that promotes upright, core strength-building posture – can keep you walking. Fall prevention does not have to mean saying goodbye to walking!
Myth #5: If you have avoided walking for a long period of time, your muscle strength, flexibility, and balance can't be regained.
It may seem like the only way to prevent falls after you have long been inactive, and experienced a lot of physical deconditioning, is to remain that way. Dependence on a wheelchair seems permanent.
While this may be true for many, you may be able to regain more independence – that is, the ability to move about on your own two feet – than you think. While the loss of muscle mass is inevitable as we age, rebuilding muscle late in life is possible through strength training.
In a 2013 study, 24 people over the age of 90 participated in a 12-week exercise program that increased their walking speed and ability to rise from a chair, among other benefits. Most importantly, the researchers documented a "reduction in the incidence of falls."
Research like this demonstrates that if you have retained at least enough strength to stand, there is hope you can retrain your body to do more. Standing longer leads to taking a few steps; a few steps leads to more, and so on.
Even as you approach a century of life!
Fact: Fall Prevention Is Just the Beginning with LifeGlider
Whether you're interested in remaining upright and active, or working toward regaining your independence, Falls Prevention Awareness Week is a great time to make a change that helps keep you safe.
Take your fall risk seriously.
Keep your home environment clutter-free.
Stay on your feet and walking daily.
Exercise more, safely, with assistance if needed.
Use a mobility aid that promotes an upright posture and natural balance.
And if you think the LifeGlider is a mobility aid that's right for you, contact us to learn more.
---